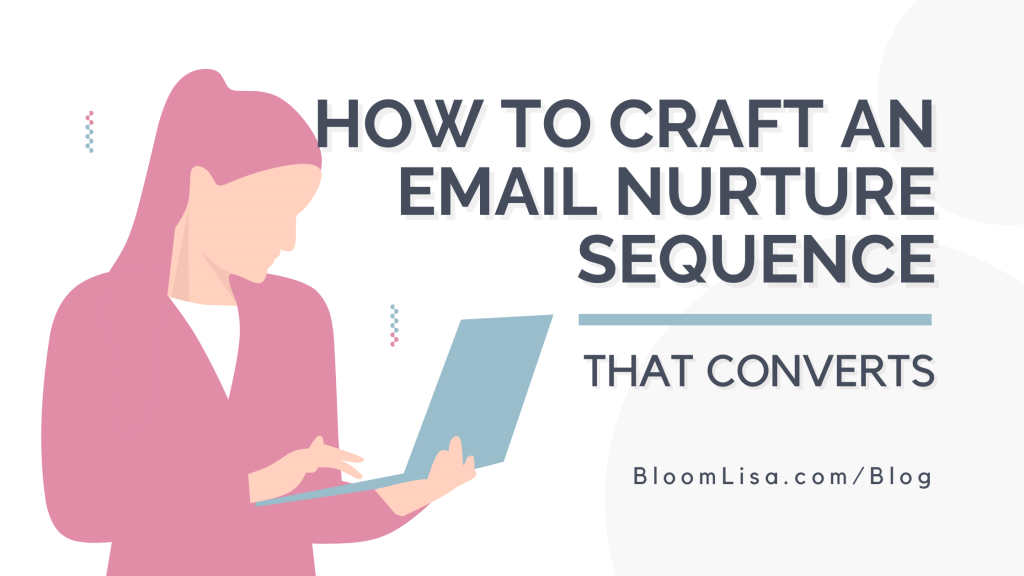 Last month, I blogged about crafting your
Opt-In to Grow your Email List
. This month is a follow up resource to take it to the next level with an email nurture sequence.
Email nurture sequence?
Growing a community requires trust, and touch points delivered into your ideal clients inbox is a proven winner when it comes to ROI in digital marketing strategies. Crafting an email nurture sequence targeted at your
ideal client
is a proven winner.
It's time to start building momentum with all of those seeds you've been planting and watch your ROI grow + bloom!
Why does this matter?
Did you know that a message is 5X more likely to be seen in email than on Facebook and that the average order value of an email is at least 3X higher than that on social media.  With algorithms changing on the daily and platforms limiting how many people in your community see your posts, harnessing the power of your email list is a no-brainer for your digital marketing strategy.
Here is a breakdown of how to craft those five emails.
Email One:  Welcome
This email does two things, keep it short & sweet. Let them know how often they can expect to hear from you (frequency) and thank them for joining your community.
Emails Two, Three & Four: Build your KLT
Know, like and trust is your community building must have for service based business and practitioners. Through education and inspirational content, and some story telling like client case studies that outline who and how you you help with your services or product. These three emails are planting the seeds for your offering that will come in the final email in your nurture sequence.
No sales talk! You can include a testimonial in emails three + four and link back to resources on your website and social platforms in all of them.
Email Five: Your ideal offering for your ideal client
Now is the time to share your gifts with the people who can benefit from them the most. Include a testimonial and link back to your Sales Page that also includes a testimonial.
✦  ALL emails can link back to your website, but NO SELLING until email 5.
✦  Make your ask conversational an invitation to learn more on your sales page.
✦  You can choose to send three emails. #1 is the welcome, 2 is building KLT and 3 is the invitation for your offer.
✦  Keep them brief and beneficial, no one reads long emails anymore. These people are now a rock solid part of your community.
They have self selected to follow your brand and want to know more about what you do. It's time to shift from motion into action and look at your calendar and block off some chunks of time to get clarity and start creating.
Your Coach,
Lisa
Photo By: Michele Mateus Photography